Crisis: Danger or Opportunity?
We are reminded of the John F. Kennedy quote, "When written in Chinese, the word 'crisis' is composed of two characters.  One represents danger and the other represents opportunity."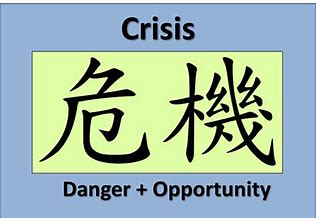 The turmoil we are experiencing due to the trade war with China might be described as a crisis.  And it certainly holds both danger and opportunity.  If you are in retirement and taking from your investments for regular living expenses, you may feel that your well-being is in danger.  If you are still contributing towards your retirement, a child's college fund, or any other savings goal, you are presented with an opportunity to invest at low prices. However, whether or not you have a financial plan can make all the difference in being at peace in the face of danger or making the most of the opportunity before you.
A financial plan includes providing for sufficient assets to weather a storm.  We recommend five years of safe assets because we know that, historically, it takes about five years to get through a bear market and make a full recovery.  Having investments available that do not take the same dips and dives as the regular stock market allows you to have confidence that your needs can be met while the rest of the portfolio is in bear market and recovery mode.
Having a financial plan also provides a roadmap for putting cash assets to work in a down market.  And it includes regular rebalancing, which means cashing in on profits during good times and reinvesting them.  That may look like selling down some of those growth stocks and putting the proceeds into value stocks that haven't performed as well but that typically don't crash as hard in a market downturn.  That may mean selling some US stocks and using the proceeds to replenish safe assets or make new investments in international equities.
Having a financial plan protects you against further investing in assets that are already highly valued or even over-valued.  After all, the saying is not "buy high and sell low."  It's easy to get caught in the hysteria surrounding the latest and greatest hot investment.  But buying something that has already risen to all-time highs is as risky as buying something that has taken a great tumble.
Do you have a financial plan?  Would you like to discuss your financial plan with someone or have someone help you develop such a plan?  That's what we help clients with every day here at Davenport Watts & Drake.